Thinking about moving to Wisconsin? The state may not be known as a beacon of hope for the LGBTQ community, but it also doesn't have a negative reputation. In fact, it's a fairly neutral state. That said, there are a number of cities here that are very welcoming and progressive. If you're considering a move to America's Dairyland, as it's sometimes called, here are some towns and cities to think about. Many are home to gay and lesbian real estate agents who can help you find your dream home.
Milwaukee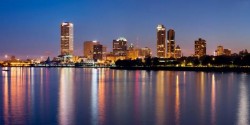 One of the most well-known cities in Wisconsin, Milwaukee is known for being the home of the Green Bay Packers football team. It's also the home of PrideFest Milwaukee and a number of LGBTQ events and businesses. In fact, many in Milwaukee identify as progressive, open-minded individuals. The housing market in the city has recently undergone several changes. The downtown area has been revitalized, and a number of neighborhoods are experiencing gentrification. While that means housing prices have gone up, it also means the properties here are in great condition.
Madison
Another large city, Madison is often considered Wisconsin's my LGBTQ-friendly area. In fact, The Advocate has recognized the city as one of the most welcoming in the country. As the capitol of the state, Madison is a fairly large city with many different events and activities. There are some great LGBTQ-owned businesses here, plus you can take advantage of the local LGBTQ community center, too. With an average age in the 30s, many in Madison are young professionals who are ready to seize the future.
Eau Claire
Eau Claire is another city where the average age is fairly young. This is mostly because it's the home of the University of Wisconsin – Eau Claire, which attracts many students from around the country. The city is known for being a gay getaway, especially during the annual Chippewa Valley Pride festival.
Oshkosh
Another college town, Oshkosh is also home to a branch of the University of Wisconsin. While its median age may be a bit older than Madison or Eau Claire, it's still young enough that the city overall is very welcoming and liberal. You can visit a number of different LGBTQ businesses here, including a few bars and clubs.
Superior
Superior is located in the northern part of the state and is great for those who love the outdoors. Of course, that also means it has some pretty cold winters, but if that doesn't bother you, Superior is a great place to live. It and its sister city, Duluth, host a combined Pride festival every year.