West Virginia is a state that defies classification. To some, it's part of the south. To others, it's a mid-Atlantic state. Some even think of it as part of New England. It certainly has its own unique culture, and the people of West Virginia love it. The state has some of the most beautiful stretches of land in the nation thanks to the Appalachian Mountains and hills. It's also known for its many cave systems, parks, rivers, and lakes.
LGBT Rights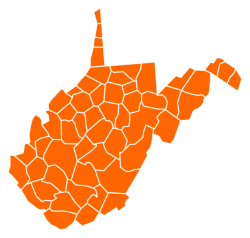 But how does West Virginia treat its LGBT citizens? The state repealed its sodomy law back in 1976, and it approved same-sex marriage in 2014 after the attorney general and the governor refused to defend the laws preventing it and ordered state agencies to follow the court ruling that declared the ban unconstitutional. Prior to that, only a state statute prevented same-sex marriage—attempts to amend the state constitution to define marriage as being between one man and one woman repeatedly failed.
Unfortunately, the state hasn't been as progressive when it comes to protections based on sexual orientation and gender identity. West Virginia has no statewide laws preventing discrimination, and attempts to pass such laws have failed in the past. There are a number of cities and one county that have passed their own anti-employment discrimination ordinances, however.
The Best Places to Live in West Virginia
If you're considering moving to the state, you'll most likely want to look at one of those cities that do offer protections. A good gay or lesbian real estate agent will be able to help you find a home in any of these locations or anywhere else in the state. Charleston, the capital of West Virginia, may be your first consideration. The city protects individuals from discrimination based on both orientation and gender identity, plus the housing prices in most of the neighborhoods in the city are fairly low. As the capital, Charleston is also home to many different cultural activities and sports teams.
Then there's Huntington. This city also has anti-discrimination laws protecting its citizens and a number of cultural activities. Many college students living in Huntington during the school year, while attending Marshall University.
Morgantown is primarily a college town, but it's located near the northern part of the state. Residents can easily take day trips to Pittsburgh and other major New England cities while continuing to live in a town that's fairly small.