Boystown is one of the most famous gay neighborhoods of Chicago, but it's more than that—it's actually the first recognized gay neighborhood in the country.  Many LGBT people flocked to Boystown, which quickly became one of the biggest gay and lesbian cultural centers.  Over the years, gay neighborhoods have come and gone, but Boystown is still going strong.  In fact, in 2014, it was named the World's Most Incomparable Gay Neighborhood by Out Traveler magazine.  The award was voted on by the readers of the magazine, so it's more than just an editorial pick—it was the overwhelmingly popular choice.
Where is it?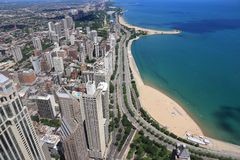 Boystown is loosely defined as the area between Irving Park Road and Wellington Avenue and the area between Broadway and Sheffield Avenue.  Part of this area actually overlaps with the Lakeview East neighborhood.
Boystown Attractions
There are many different attractions in Boystown.  It's well-known for its nightlife, which can get pretty lively, and its theater.  The Chicago Off-Loop Theater is located here, as is the Laugh Factory comedy club and the Bailiwick Repertory Theatre.  Then there are the different fashion boutiques, wineries, locally owned shops, and even a few popular chain stores.  Some popular spots include the Hydrate Nightclub, Roscoe's, Nookies Tree, Yoshi's Café, and Cram Fashion.
The Center on Halstead, the local LGBT community center, is on the corner of Waveland and Halstead.  It's the Midwest's largest LGBT community center, and over 1,000 people visit it every day.  The center offers everything from STI and HIV testing to cooking classes and sports.
Pride
Boystown is home to Chicago's annual LGBT Pride Parade.  It runs down Broadway from Montrose and ends up on Sheridan Road.  The city of Chicago also made its pride in its LGBT citizens known in 1997 when $3.2 million dollars was dedicated to providing improvements and updates to the area.  As part of this project, 23-foot-high pillars featuring brightly colored rainbow rings were added.
Houses in Boystown
Thinking about moving to Boystown?  Local gay and lesbian real estate agents can show you some of the amazing brownstones and greystones in the area.  Boystown is known for these walk-ups, and many of them are fairly old.  The area is full of historic architecture and grand, older buildings that have been kept up.
A Place to Visit… and Maybe Call Home?
If you're visiting Chicago, you've got to take a stroll through Boystown just to see this historic LGBT neighborhood.