While it wasn't shouted from the rooftops like the Supreme Court's decision on marriage was, the Equal Employment Opportunity Commission's (EEOC) decision on discrimination based on sexual orientation is certainly historic and very important.  In a 3-2 vote, the five people on the commission stated that discrimination in the workplace based on sexual orientation is illegal.  In fact, it has been for years!
A Surprising Decision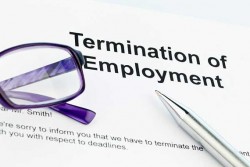 The fact that the vote was three to two shows that there was much debate over this decision.  However, the end result is that federal employers may not discriminate against any LGBT person when it comes to hiring and firing them.  They are protected by the Civil Rights Act of 1964, specifically Title VII.  According to the EEOC, the part of Title VII that states that employers may not discriminate on the basis of sex actually includes sexual orientation.  An earlier decision held that Title VII already protected trans employees, but this is the first time orientation had been protected.
The thinking goes like this: when an employer discriminates against a gay or lesbian person, that employer is stating that they do not approve of that employee's orientation.  This translates into a disapproval of the employee's romantic attraction towards the same gender.  That can be seen as discriminating against the employee based on the fact that he or she does not fit traditional gender roles.  The discrimination, then, is based mostly on the person's sex.  A gay or lesbian employee is not following his or her assigned gender role as determined by what the employer thinks is correct for their sex.
This is also protected by a ruling from the Supreme Court that dates back to 1989.  In Price Waterhouse v. Hopkins, the court decided that discrimination based on irrational sex stereotyping was illegal under Title VII.  The EEOC simply took this a step further and declared discrimination against LGBT employees to be irrational.
What this Means
This decision only affects federal employees so far, but the EEOC does work to resolve discrimination claims between private employers and employees, so it may have an impact there. This is yet another major step forward in LGBT rights, although there is still much work to be done.  The EEOC's decision doesn't affect housing, for example.  Gay and lesbian tenants can still be kicked out of their homes, and people can still refuse to sell to them for no other reason than their orientation.  While gay and lesbian realtors work to quietly combat this discrimination, it's still very real.