When you purchase a home, the actual piece of paper that says you own that property and everything on it is the deed.  Without the deed, or without clear title to the land, it's possible someone else can make a claim on your property, which is why you'll most likely see something called title insurance on your closing paperwork.  This basically says anyone else's claim to the land is null and void.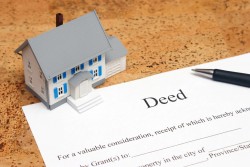 There are four main different ways you can hold title to a property.  Note that this can differ from state to state, so there may be other ways of actually owning your property.  However, these three different methods are the most common.
The first is the simplest: sole ownership of the property.  If you're unmarried or if for whatever reason you decide to take title solely in your name, this is the form of ownership you will take.  There may be several reasons to do this, but there are also several downsides.  The spouse will need to sign a quitclaim deed that states he or she gives up all claims to owning the property, and the property may end up in probate court when the owner dies.
Generally, when a married couple (or two or more unmarried people) purchases a home, they do so as joint tenants.  This means they hold an equal share in the property.  When one tenant dies, that person's share is divided among the other tenants.  There are usually stipulations about how one person can sell his or her portion of the property.
Tenants in Common is similar but slightly different.  Often, this is the method used by two or more people who are not married.  Tenants do not need to hold an equal share in the property, and each tenant can sell his or her share at any time to anyone.
Finally, a property title can be held via tenancy by the entirety.  This is an interesting method of allowing a married couple to hold a property as a sole ownership.  It holds forth the idea that a married couple is legally one entity.  When one spouse dies, the other receives sole ownership of the property.  No probate or will is necessary or will be recognized, which means one spouse cannot will any portion of the home to anyone else.  If the couple divorces, they automatically become tenants in common.
If you're uncertain which form of ownership is best for you, discuss it with your GayRealEstate.com gay realtor.