If you're selling your home, one of the things your realtor may suggest is having an open house.  This is a great way of getting a good number of potential buyers into your home.  Unlike scheduled showings, open houses allow anyone who just happens to be driving by to come in and take a look at your home.  Of course, you won't want to leave it up to chance—your realtor will advertise the open house and work hard to get the word out to those looking to buy in your area.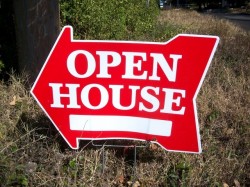 Having an open house can be somewhat difficult if you're still living in the home.  You'll probably need to leave for the duration of the open house, which can be several hours.  You'll also need to clean the entire home and make certain your pets are boarded or otherwise away from the property.  You want the house to look absolutely impeccable, which can be difficult since you're still living there.  Do your best to make it look spotless and uncluttered.
Many realtors suggest removing a lot of your personal effects, too.  This makes the house look less cluttered and makes it appear to be a blank slate.  It also reduces the chance of a potential buyer seeing something he or she disagrees with, such as something relating to your political or religious beliefs.  Try to make your house as impersonal and uncluttered as you can.
If you've already moved, though, having an open house is fairly easy.  You'll still need to do a deep cleaning, of course.  You may even want to have your floors professionally cleaned so they look perfect, and you might want to repaint any rooms that need it if you haven't already done so (your realtor may have suggested you repaint before the house is shown to anyone).  If you haven't been living in the house for a month or so, you or your realtor should make certain everything is still working properly (electricity, water, etc.).  Turn on the air conditioning or heating to make the house comfortable a few hours before the open house starts.
Talk to your realtor about what you're expected to do.  Some will take care of checking the house and adjusting the internal temperature themselves, but some may be very busy.  You might want to check on things yourself anyway.  You may also need to take care of some yard work, including mowing or clearing the drive of snow.  Remember, even though your realtor will be showing the property, it's still yours until it's sold.  That means everything is ultimately your responsibility.