Your dream home might have a yard that is big enough for your dog, a LGBT-friendly neighborhood full of gourmet coffee houses and antique shops or be within steps of where you work. However, before you sign on the dotted line it is important to determine whether or not the home literally has a good enough foundation to support your lifestyle by hiring a home inspector who can provide you with a detailed narrative report about the property's physical condition of the building.
Is The Home a Bargain for A Reason?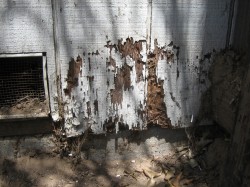 A home inspector can also provide you with answers as to why a home-for-sale might be offered at what appears to be a much lower bargain asking price than other homes in the area. For instance, the house could have a failing foundation, asbestos in the walls or termites. You may be buying a house in the summer, not realizing that your heating bills are going to cost you almost as much as your mortgage in the winter. A home inspector can help you determine whether or not purchasing that "fixer-upper" is going to be worth its ROI (Return on Investment).
This is especially a "must-do" if the house is older, or an architectural gem because those are the home at most risk of having a leaky roof or quirky heating system that could become an inconvenience or expensive problem.
Hiring A Qualified Home Inspector
Certification and licensing qualifications for home inspectors vary from state to state so it is a very good idea to be quite sure that you are hiring a legitimate inspector by checking with a banking expert or on your state's website. Often your real estate agent can recommend one but it is best for you to find one on your own. Look for a certified professional that has a degree in architecture or engineering as well as home inspection certification. You can find out quite a bit of information about home inspectors in general on the National Association of Home Inspectors website at http://www.nahi.org/.
Avoid Settling for the Checklist
Keep in mind that when you sign a contract with an inspector that they are designed to limit any liability that they might have should a problem that was missed be discovered after the inspection of the dwelling. Be sure to read the fine print so that you know exactly what will be inspected and how the features of the home will be "graded" by the inspector. Find out the exact definitions of words such as "serviceable" or "satisfactory" and find out if either implies damage or dysfunction. In short, make sure that the inspection report that you are provided with is written in a way that you can understand.
It is also best to hire an inspector who is willing to write you a report that is in written narrative form. Avoid inspectors that simply provide you with a checklist and nothing else, as these types of assessments usually do not have enough detail to support any arguments about the integrity of a property.
It is also a very good idea to talk to your real estate agent and make sure that a home inspection is a condition of the sale. Do not buy a home that does not pass an inspection unless the problem is able to be redeemed by a lower sale and is an affordable repair. In fact, asking the seller to fix the problem found by the inspector can be a condition that must be fulfilled before the deal is closed. If at all possible it is important to have the seller or a representative of the vendor present during the inspection so that questions about the condition of the building can be answered immediately.