Many larger cities have a gayborhood, an area that has traditionally been home to many LGBTQ residents. If you're looking to purchase a new home or move to a new city, should you consider looking in one of these areas? There are a number of reasons why a gay neighborhood might be for you, but there are also reasons why you may want to look at other areas, too.
You Won't Have to Worry About Your Neighbors Accepting You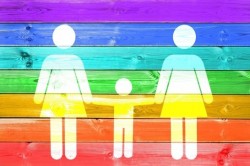 One of the biggest reasons why people ask gay and lesbian real estate agents to find them a home in the gayborhood is because they know their orientation or gender identity won't be an issue. You won't have to worry about neighbors harassing you for being in a same-sex relationship. Of course, your neighbors may harass you for something else—there's no guarantee everyone will live in peace and harmony, even in the gayborhood!
You'll Be Near LGBTQ Businesses
In most cities, LGBTQ business owners open their stores near the areas where LGBTQ residents live. You'll find a number of restaurants, bars, clubs, and other businesses catering to the LGBTQ community near gay neighborhoods. Services such as an LGBT community center may also be located in this area of the city.
Another nice benefit for those with children is that the school district that serves the neighborhood is usually very accepting. There will be a number of children from LGBTQ families there, which will help decrease the chance of your child being bullied for having same-sex parents.
Always Consider Other Factors
If living in the gayborhood means you have a much longer commute or have to pay significantly more for your home, you may want to consider looking elsewhere. While it can be great to live in one of these neighborhoods, you shouldn't take out a mortgage that's more than you can handle. Gay neighborhoods often experience gentrification, and the housing prices increase dramatically as homeowners put more work into their properties.
Another thing to consider is that many people who live in these areas have done so for years, if not decades. They're not looking to sell, so be aware that homes that fit your needs and your budget can be difficult to come by. You may have to look outside of the gay neighborhood to find a property that works for you. Weigh all of the factors before deciding that the gayborhood is the best home for you.