If you're looking for a gay neighborhood in Chicago, most LGBTQ real estate professionals would point you to Boystown. It's the most famous gayborhood in the city, and it has a long history of acceptance. Boystown is a part of the larger neighborhood of Lakeview East. It runs from Belmont to Addison and from Halsted to Broadway. But why is Boystown so popular?
The Beginning of Boystown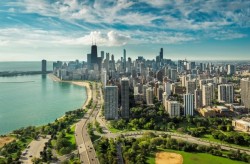 Chicago has always been a haven for LGBTQ people, even back in the 40s and 50s. During these times, many people in the community lived in Tower Town or River North. However, they were slowly pushed out of these neighborhoods as rent went up. Eventually, many of them moved towards Boystown, especially during the 1960s.
Illinois actually repealed its sodomy law in 1961, allowing gay men to have more freedom in coming out of the closet. By 1970, there were enough LGBTQ people living in the area to organize the very first pride parade. It wasn't long after that event that the area became unofficially called Boys Town. Later, the name became the more official Boystown.
That first pride event had less than 200 people participate in it. Today, the pride parade draws in over one million attendees, making it one of the largest pride festivals not only in the U.S. but in the world.
Boystown Today
Over the years, Boystown continued to grow and gain more prominence. As one of the first, if not the first, gay neighborhood, it has always been a popular home for members of the LGBTQ community. While real estate prices have gone up, they are still more reasonable than some popular gay and lesbian neighborhoods, including those in San Francisco.
In 1997, Chicago devoted $3.2 million dollars to Boystown to improve the area. This facelift not only made the area more colorful and visually appealing, it also helped to improve the safety of some streets. One of the biggest additions was the 23-foot-high pillars. Eleven of these pillars were added in 1998 and are painted in the colors of the rainbow.
Is Boystown Right for You?
History and importance to the LGBTQ community aside, is Boystown the right place for you? Home prices may not be near what they are in California or New York, but they're still fairly high for the area. However, the greater Lakeview East neighborhood has a lot to offer. Many new businesses have moved into the area in the past few decades. Even if you don't live in Boystown proper, there are a number of great (and more affordable) homes in the vicinity.