Moving to Indiana? The state may not seem that exciting to some, but it's actually got a lot going for it. Indiana residents have shown great support for those in the LGBTQ community. In addition to this, the state has a fairly strong housing market and has shown economic growth in recent years. If you're moving to Indiana, here are some of the most welcoming cities in the state.
Indianapolis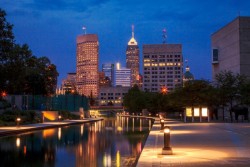 As the capital of the state, it's no surprise that Indianapolis is home to a diverse population. It's one of the most welcoming places for LGBTQ people in Indiana and has a number of businesses owned by members of the community. The city also hosts an annual pride parade and has a gay and lesbian community center. Home prices are quite affordable in some of the suburbs, while the downtown area tends to be a little more expensive.
Evansville
Home to several universities, including the University of Evansville and the University of Southern Indiana, Evansville's demographics tend to skew younger. This means the city is quite welcoming since the younger generation tends to be more accepting of everyone. Evansville has passed several city ordinances protecting individuals on the basis of both sexual orientation and gender identity. Homes here tend to sell for around $100,000. That's fairly affordable compared to many other cities in the area.
Carmel
Carmel is a welcoming city that has worked hard to pass laws protecting LGBTQ individuals in employment, housing, and other areas. The local government has offered domestic partnership benefits to employees, too. The only downside to Carmel is that it's one of the most expensive places to live in Indiana, with the average home selling for more than $350,000.
South Bend
South Bend, on the other hand, is one of the more affordable places to live in the state. Homes here often sell for less than $80,000. Just because home prices are lower, though, doesn't mean that South Bend is any less diverse or welcoming. In fact, its population is quite diverse. This is partially thanks to St. Mary's University and the University of Notre Dame. Many LGBTQ people choose to stay in South Bend or the surrounding area after graduation. The city is also home to a large number of same-sex married couples.
These are just a few of the best places to live in Indiana. Other great cities include Michigan City, New Albany, and Bloomington.