Are you considering moving to Virginia? It's a lovely state that was one of the earliest places to approve same-sex marriage. Virginia is home to a good number of LGBTQ individuals and families, and the state has done a lot to provide them with many different resources and protections. Virginia has an official Office of Diversity and Inclusion that offers many different tools to LGBTQ people, plus groups such as Equality Virginia offer help in finding welcoming churches, legal advice, and more. Naturally, some parts of Virginia are more welcoming than others, though. Here are some great cities that you'll feel right at home in.
Richmond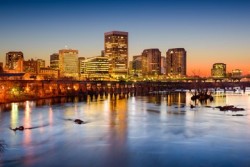 The capital city of Virginia, Richmond has done a lot in recent years to reach out to the LGBTQ community. This has resulted in more LGBTQ people coming in as tourists, and some have even decided to move to the city. PrideFest is held every year in September in Richmond, bringing in people from around the state for the festivities. Virginia Commonwealth University has also received high ratings as an LGBTQ-friendly campus.
Alexandria
Alexandria, which is located very close to Washington, D.C., also hosts several different pride events throughout the year. The city is home to groups such as Rainbow Families DC and the Alexandria Gay and Lesbian Community Association, both of which provide social activities and support for the community.
Blacksburg
A smaller city you may not have heard of, Blacksburg is home to Virginia Tech. This college has several different LGBTQ support groups that host various events and provide support to students in the area. They bring in various authors to read and talk with students and put on theater performances. Don't be put off by the fact that Blacksburg sits in what many consider the more conservative part of the state. Many gay and lesbian real estate agents will tell you that the town is actually one of the more liberal in the area.
Arlington
Arlington is a part of the DC Metro Area, a place known for a large number of LGBTQ families. The city has appeared on Advocate Magazine's list of the 10 Gayest Cities in the U.S. and is well-known for its friendly, welcoming attitude. The city has a group for LGBTQ parents, is home to the Arlington Gay and Lesbian Alliance, and provides affordable housing to those who work in DC but can't afford to live there. While the city doesn't have its own pride festival, many of the LGBTQ groups in Arlington participate in the Capital Pride Parade.