Want to know where some of the best places to live are for members of the LGBT community? One tip is to check out where they're vacationing. While it's not always true, some gay and lesbian real estate agents have found that cities with a growing LGBT tourism industry do tend to be much more open and welcoming. No one wants to vacation in a city where they're going to be looked down on because of their sexual orientation. Some people get enough of that in their day-to-day lives—they don't want to deal with it on vacation, too. So where are LGBT people spending their vacations in 2017? Here are some of the top spots.
Palm Springs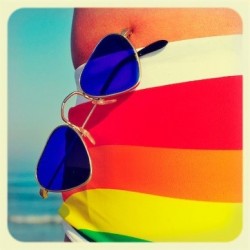 California is always a welcoming destination for LGBT people, so it should be a surprise that Palm Springs is on the list. What is interesting is that it's the California city of choice this year, not San Francisco. There was a time when Palm Springs seemed played out – people were bored of it. Then the Coachella Music and Arts Festival moved in and brought the crowds back. What's great for those looking to buy a house is that Palm Springs is just as welcoming as San Francisco or LA but is more affordable. It's still fairly pricy, of course, but if you live on the outskirts of the city, you'll find prices aren't as bad.
Denver, Boulder, and Other Cities in Colorado
The entire state of Colorado has become very open and relaxed. In fact, few people realize that a county clerk in the state actually issued some marriage licenses to same-sex couples back in 1975! The state has become known for its laid back, live and let live attitude that prevails in most of the larger cities. It's also seen in vacation towns such as Telluride and Aspen. Living in those areas may not be for everyone. The huge influx of visitors during the tourism season is a lot to handle. However, Denver, Boulder, Colorado Springs, and other locations may fit all of your needs.
Orlando
Orlando, Florida, is often on lists of the best LGBT areas to visit or live in. Last year, the city made headlines with the tragic shooting at the Pulse Nightclub. This mass shooting was the worst in the country's history. Despite this, Orlando hasn't lost its status as one of the best places for LGBT people to visit or live. In fact, the community became even stronger after the tragedy. Orlando offers a lot to its residents, and in some parts of the city, you'll hardly ever see tourists.