Thinking about making the move to Iowa? The state is certainly a great place to live for some, but how is it for the LGBT community? The good news is that many cities in Iowa have passed a number of laws that protect LGBT citizens. If you're looking to move to a city that has everything you'd want from a modern metro area, but isn't as large or as crowded as cities in New York or California, Iowa may have what you're looking for. Here are some of the best towns and cities in Iowa.
Iowa City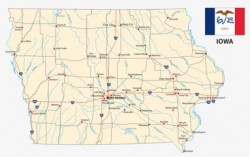 Let's start with what is possibly the most LGBT-friendly city in the state. The HRC gave Iowa City a perfect 100 on its Municipal Equality Index. That means the city scored very highly in a number of different areas. Iowa City has also ranked highly on Forbes' small metros for doing business list, claiming the number two spot in 2008. The home of the University of Iowa, many people see this small metro of 70,000-some people as a college town. It certainly is, but it's also a great place to make your home.
Des Moines
The capital of Iowa is also its largest city, but with just a little over 200,000 people, some may not find it that large. While it didn't score a 100 on the HRC index, it did earn an 85. Des Moines is also a very welcoming city, and it may be a better fit for those moving from larger cities. The downtown area is full of shopping, dining, and entertainment venues, including some LGBT-owned clubs and bars.
Mount Vernon
If, on the other hand, you want to live in a fairly small town, Mount Vernon may be exactly what you're looking for. With only around 4,500 people living there, including the students at Cornell College, Mount Vernon is almost the textbook definition of the word "quaint." But that doesn't mean you'll easily get bored there. Budget Travel Magazine actually named Mount Vernon as one of its Coolest Small Towns, mostly thanks to the activities that go on at Cornell College.
Davenport
With just under 100,000 people, Davenport itself is fairly small. However, it's part of the Quad-Cities, four different cities so close together that they're lumped into a metro area with more than 375,000 people. Housing is quote affordable here, and many people who move to Davenport elect to buy a home rather than rent.