Selling your home is a lot of work, especially if you're still living in the property while it's being shown to potential buyers. If this goes on for more than a few weeks, it's going to get stressful. You have to make sure your house is always ready to be shown to clients. There are times you may only have half an hour's notice that a buyer wants to see the house. If you can't make everything organized and spotless within a few minutes, the potential buyer may see have to walk through a messy house. That can be a major turn-off, even though your clutter really has nothing to do with the home itself.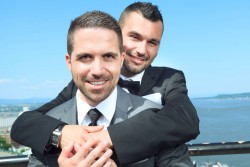 Of course, this is true with anyone's house, regardless of their sexual orientation. Real estate agents will help any individual or couple go through their home and prepare it to make that "wow!" impression that you need to secure a sale. One thing agents look at when helping you stage your home is personal effects. Everyone naturally fills their homes with these types of items, but there are some that your agent may suggest you put away. As an LGBT couple, this list may be a little more extensive. Even a gay or lesbian real estate agent may make these suggestions.
This isn't anything discriminatory, although discrimination does play a part in the decision. It all boils down to how as people we have certain beliefs or like certain things and may instinctively dislike certain things. For example, a Realtor may suggest that a couple remove anything that indicates their religious or political preferences. Seeing something like that could make the buyer pass, even if they don't consciously think about it.
The same is true for the little things such as pennants for your favorite sports teams or your magazines on your table. The idea is to make the buyer feel at home, not show off your personality or likes.
What does this mean to an LGBT couple? It means that you shouldn't get offended when your real estate agent suggests putting away your wedding photos or other pictures of the two of you. You also should anticipate taking down your rainbow flag and other pride items. Again, this isn't to hide who you are necessarily. Instead, it's to give the buyer the feeling of a blank slate and to ensure that you aren't discriminated against, even if it's unconscious discrimination.