Connecticut is often imagined as a picturesque state, especially in the fall.  The trees turn amazing colors, and people take long drives through the area to see them.  But, of course, there's more to Connecticut that trees.  The state is one of the oldest in the nation, and it's home to a number of major industries and universities, including Yale.  It's also home to a large number of LGBT people, and there's a reason for that.
An Early Win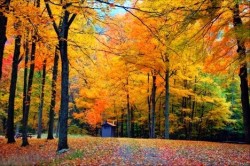 Back in 1971, Connecticut revamps its sodomy laws, making consensual sodomy legal.  It was only the second state to do so, making it a haven for LGBT people.  It would go on to be one of the most progressive states in the union.
Same-Sex Marriage
In 2005, the state passed legislation creating civil unions.  While not true marriage, these unions were one of the earliest recognition of same-sex partnerships.  They did not provide couples with all of the rights a married couple had, but they were the first step in bringing equality to the state.
In 2008, the state's Supreme Court made its ruling in the case of Kerrigan v. Commissioner of Public Health.  Their ruling stated that same-sex couples had all of the same constitutional rights as opposite-sex couples, including the right to engage in marriage.  They further stated that the civil unions created in 2005 were actually violating the state constitution.  In November of that year, the state began issuing marriage licenses to all same-sex couples.
In 2009, legislation was passed that officially added same-sex marriage to all of the state's statutes and laws.  The legislation creating civil unions was abolished, and all civil unions were automatically converted into civil marriages in October of 2010.
Protection Under the Law
The state has laws protecting LGBT people from discrimination.  These laws include both orientation and gender identity, and they apply to employment (both public and private), government services, and more.  Orientation and identity are also both included in the state's hate crime laws.
Children and Birth Certificates
Single individuals and all couples, regardless of orientation and marital status, may adopt children.  The statues do say that the adoptive parent(s) orientation may be considered during the process, but so far, it appears to have played no part in any adoption decision.
Transgender individuals in the state can change the gender on their birth certificates and other legal paperwork.  They do not have to go through gender reassignment surgery first.
Many gay and lesbian real estate agents recommend Connecticut for those who are considering a move to the New England area for all of these reasons and more.  The state is simply a nice place to live, no matter what your orientation.