When you're working with a gay or lesbian realtor, they most likely know where all of the LGBT neighborhoods are.  But what if you don't really want to live in a gay neighborhood?   One thing you and your realtor can do is look for signs that people in the area are allies or, in other cases, homophobic.
Look for Bumper Stickers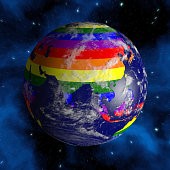 Check out the cars parks at other homes on the street.  Do you see any rainbow stickers or Human Rights Campaign equality stickers (a blue square with a yellow equal sign in the center)?  If you do, it's a very good sign.  If you don't, it's not necessarily a sign that other homeowners on the street are going to hate you.  If there are other LGBT homeowners around and it's a really liberal part of town, you may even see a rainbow flag flying.
Are there LGBT-Owned Businesses Nearby?
It can be somewhat easy to identify gay bars and clubs, and even if it's not, you can always search online and see where they're all located.  Usually, these bars can be found near the neighborhoods that will support them.  Another thing to do is see if your city has a LGBT chamber of commerce.  Some do, and they will have a listing of many gay and lesbian owned businesses.
Another thing you can do is look for businesses that distribute local LGBT newspapers.  Some cities have free LGBT papers that are distributed weekly for free.  Local businesses often have a display of these and other free community papers up near the entrance.  If you see these papers, you know you're in an area that is at least open to LGBT people.  You can also talk to the people working in the business about the LGBT community.  Chances are that either someone there is LGBT or they are staunch allies who can tell you about the neighborhood.
Look at the Churches
The churches in a community can also tell you a lot about the values that those in the area hold.  If you see a lot of Baptist churches, for example, it's a good indication that the neighborhood may be more conservative than you'd like.  On the other hand, if you see Unitarian churches or United Methodist churches, it's a good sign that the congregations will be more welcoming.
If you need a bit of help, contact www.GayRealEstate.com and let us help you connect with a real estate agent that will ensure you find the perfect gay-friendly neighborhood for your needs.