When the state ban against same-sex marriage was ruled unconstitutional on January 23, many LGBT citizens in Alabama thought that they at last had equal rights.  The ruling was set to go into effect on February 9, and many planned to get married that day.  However, Alabama Supreme Court Chief Justice Roy Moore ordered county clerks not to issue marriage licenses, and 20 counties out of the 67 did not.  This was followed by a ruling by the Alabama Supreme Court on March 3 that no probate judge could issue a marriage license to a same-sex couple.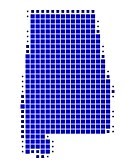 So with that and with the general lack of support for LGBT rights, why would anyone in the gay community want to move to Alabama?  According to a public opinion poll held in the fall of 2014, 60 percent of the respondents were in opposition to same-sex marriage, and another 12 percent had no opinion.
But it's not as horrible as many across the country think.  Alabama does have some great LGBT neighborhoods, especially in the larger cities.  Huntsville, for example, is home to the Five Points, a historical district where many LGBT people live.  While the 2010 Census showed that only 0.5 percent of all households were same-sex couples, that's actually almost 10,000 people.
Birmingham is another good place for LGBT people to live.  They have several gay neighborhoods, and the city is fairly inclusive.  While the city is at the bottom of the list of the top U.S. metro areas with LGBT populations, it does have a number of same-sex households.  Areas like Crestwood and East Lake are home to a number of LGBT people.
While those two cities have good sized LGBT populations, they don't have any laws protecting them from discrimination.  Montgomery, however, does prohibit discrimination on the basis of sexual orientation.  It's not much, but it's something.  The state itself does not have any laws regarding orientation or gender identity.  Hate crime laws do not address the subject, despite the fact that a number of state legislators have tried to push through a bill adding sexual orientation to the list.
The state has elected one openly gay public official, state Representative Patricia Todd.  She was elected in Birmingham and has been one of the most outspoken voices for LGBT rights in the state.  While Alabama does have a way to go before LGBT people are truly equal in the state, it does have a number of cities where gay and lesbian people are welcomed.