Nevada is known for being the home of Las Vegas, where money is easy come, easy go, and it's possible to get married by Elvis.  That's why it's somewhat surprising that the state didn't allow same-sex marriages until 2014.  However, domestic partnerships have been legal since 2009.  While not truly equal, this was just one of the reasons gay and lesbian real estate agents suggested Nevada as a home for their LGBT clients looking to move.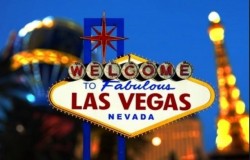 Las Vegas is probably going to be too much for some people.  The city is always busy, and while they say New York is the city that never sleeps, Vegas certainly doesn't seem to ever quiet down.  This is especially true if you're near the strip.  Fortunately, there are a number of other cities that aren't as crazy.  Henderson, Reno, Sparks, and Carson City are all good options.
Las Vegas is a very gay-friendly city, just as one would expect it to be.  LGBT people live throughout Vegas, but there are some neighborhoods that have become gay ghettos.  Spring Valley, Stallion Mountain, East Vegas, and McNeil Manor are all extremely welcoming neighborhoods that are home to a large number of LGBT people.  These are safe areas that are off the strip, so you won't have to worry about the lights, noise, and crowds of tourists all the time.  Despite how it appears, there are many parts of Las Vegas that are actually fairly quiet and low key.
Henderson is another LGBT-friendly city.  The Green Valley Ranch area is noted for being very popular thanks to its great view of the city and the many good schools in the area.  The neighborhood also has its own casino which doesn't get as much of the tourist crowd as Las Vegas gets, so it's like having all the perks of Vegas without the crazy amount of people.
Gay rights in Nevada have come a long way.  In 2011, three bills were signed into law that prohibit discrimination based on gender identity/expression and sexual orientation in employment, public accommodation, and housing.  Hate crime statutes were amended in 2001 to include sexual orientation and, in 2013, to include gender identity and expression.
There are many reasons to move to Nevada.  Those looking to start a business will find that the state has far fewer regulations, plus they don't have as many taxes as other states do.  There's also no personal income tax, plus sales tax and the like are very low.  So LGBT people looking for a new home should consider Nevada—it has many advantages.