If you're a member of the LGBT community, you know what it's like to live in an area where people are judged on their sexual orientation.  These conservative areas can range from simply unwelcoming to downright dangerous for gays and lesbians.  But sometimes you're forced to live in an area you wouldn't choose if it were up to you.  This can be because of work, financial situation, school, or other reason.  If you're stuck in a conservative area, here are some things to keep in mind.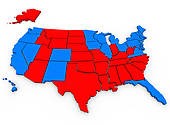 You're not the only gay or lesbian person in the city.  Even the smaller areas often have a handful of LGBT people living in them.  You can find others online by searching gay support groups or social media sites like Living Social.  By meeting people who are in the same situation, you can fill what might otherwise be a very solitary life with some social activities.  You can also always look for friends who live in nearby areas.  Also, even if you're surrounded by people who may not be the friendliest towards LGBT people, remember that there are many straight allies out there.
Many LGBT people are worried about either being flat out discriminated against or being subtly discriminated against.  In the first case, they may be denied for an apartment or other rental property.  Subtle discrimination includes things like a realtor "forgetting" to submit a bid to the seller or waiting until after another bid has been submitted.  To avoid this, look for a gay or lesbian realtor.  You may be surprised at how many of them there are, even in conservative locations.  They can help you find a home without fear of any discrimination.
As much as it may hurt, living in an area where hate crimes have been committed against LGBT people does require taking precautions.  You may not want to fly your rainbow flag outside your home, for example, or have a gay pride sticker on your car.  Some people may argue against this because it's hiding who you are, but others would say it's only smart to not make yourself a target, especially if hate crimes have occurred in the area.  The bottom line is that you have to do what you feel is right and safe for you.  Learn what you can about crimes in your area and then make the call.
Also learn about the laws in the state you're in and the business you're working for.  Remember that in some states, employers can fire someone simply because of their sexual orientation.  If you live in a conservative area, you may be working for a conservative employer.  Keep that in mind when sharing your personal life at work.