While it's 2019 and LGBTQ people are enjoying more and more acceptance, the sad truth is that there's always the risk of running into someone who will discriminate against you. This is especially true if you live in a fairly conservative area. We've all heard the horror stories about bakeries and restaurants refusing service to LGBTQ customers. While you may have never directly experienced this type of behavior, you may be concerned that it could happen to you.
One area where it can be hard to hide the fact that you're in a same-sex relationship is when you hire a contractor to either work on your home before you sell it or to do some renovations on your new home. How can you find contractors who won't be judgmental or flat out discriminate against you?
Ask Your Agent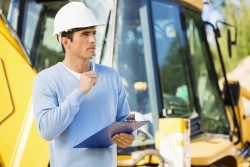 If you're working with a gay or lesbian real estate agent, they likely know contractors who do not discriminate. Simply ask them if they have any contractors they can refer you to. Most agents will give you several different contractors to talk to so you can get quotes to compare. Remember that these are only referrals. These contractors don't work for the agent, and your agent has no control over the quality of their work. However, most agents only refer clients to contractors they know will do a good job or that previous clients have favorably reviewed.
Look in Local LGBTQ Publications
Most large cities have a LGBTQ newspaper, magazine, or other local publication. Many of these are even free and can be found at businesses that support the community. Many LGBTQ-owned businesses, including roofers, flooring experts, and other contractors, advertise in these papers. You may be able to find exactly what you need, and if you know they're advertising in a LGBTQ publication, there's no fear of discrimination.
Go Online
There are a number of websites out there that provide the opportunity for LGBTQ people who live in the same city or neighborhood to connect with each other. These sites are the perfect places to ask for recommendations or to inquire about specific contractors. There's nothing better than getting a recommendation or a review from someone who has used the contractor and was very happy with their services.
These three resources will usually result in a number of different contractor options for you. Of course, be sure to talk to the contractor yourself before hiring them so you can get a good sense of who they are and if they will be a good fit with your projects.